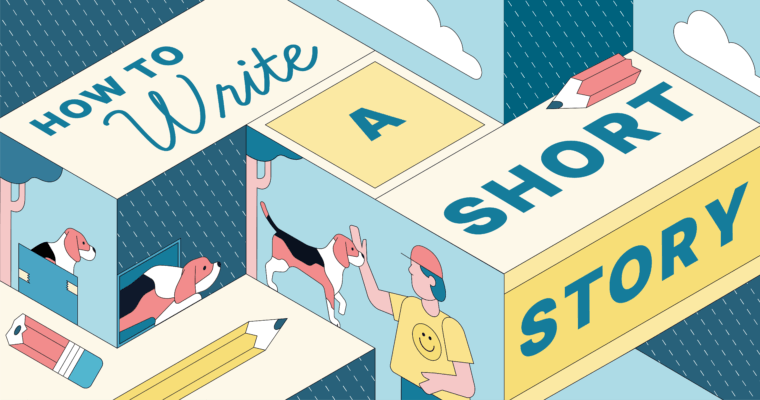 Identify a short story idea
Before you can put your head down and write your story, you first need an idea you can run with. Some writers can seemingly pluck interesting ideas out of thin air but if that's not you, then fear not. Here are some tips and tricks that will get your creative juices flowing and have you drumming up ideas in no time.
Start with an interesting character or setting
Short stories, by their very nature, tend to be narrower in scope than a novel. There's less pressure to have a rich narrative mapped out from A to Z before your pen hits the paper. Short story writers often find it fruitful to focus on a single character, setting, or event — an approach that is responsible for some true classics.
John Cheever's "The Swimmer" is about one character: a suburban American father who decides to swim through all of his neighbor's pools. While Shirley Jackson's "The Lottery" has a larger cast of characters, the story takes place perhaps over one hour in a town square. By limiting yourself to a few characters and one or two locations, you may find it easier to keep your story from getting out of hand and spiraling off into tangents.
Mine your own anecdotes
When it comes to establishing a story's premise, real-life experiences can be your first port of call — "write what you know", as the old adage goes. While you might not have lived through an epic saga akin to Gulliver's Travels, you probably have an anecdote or two that would easily form the basis of a short story. If there's a funny story you always reach for at a party or a family dinner, you could repurpose for a piece of writing or let it serve as a launchpad for your imagination.
Eavesdrop and steal
There is beauty in the mundane. Writers these days often have a document open in their phone's notes app to remember things that might spark their imagination at a later date. After all, something you overhear in a conversation between your aunties could be perfect short story fodder — as could a colorful character who turns up at your workplace. Whether these experiences are the basis for a story or function as a small piece of embellishment, they can save your imagination from having to do all the heavy lifting.
It's not just your own life you can take inspiration from either. Pay extra attention to the news, the stories your friends tell you, and all the things that go on around — it will surely serve you well when it comes to brainstorming a story.
Try a writing prompt on for size
If you're still stumped, looking through some short story ideas or writing prompts for inspiration. Any stories that are written with these resources are still your intellectual property, so you can freely share or publish them if they turn out well!
Once you have your idea (which could be a setting, character, or event), try to associate it with a strong emotion. Think of short stories as a study of feeling — rather than a full-blown plot, you can home in on an emotion and let that dictate the tone and narrative arc. Without this emotion core, you may find that your story lacks drive and will struggle to engage the reader.
What is a short story?
Because of this length constraint, short stories tend to be less complex than longer works—in certain ways. In a short story, you can build a world, but not to the extent you can build a world in a (longer) novel. Similarly, you can have multiple fleshed-out characters, but you can't give every character a full backstory and meaningful character arc like you can in a lengthier work. Generally, long, intricate plots with multiple subplots are better suited to novel-length works than a short story.
Don't take this to mean your short story's theme can't be as deep as a longer work's theme. You don't need an extensive world with a complex magical system and an entire cast of three-dimensional characters to express a theme effectively. While short stories have fewer words, simpler settings, and smaller casts than novels, they can have just as much of an impact on readers. If you're looking to read a powerful short story and see how other authors communicate substantive themes in just a few thousand words, check out these famous, impactful works:
A Preview of My How to Write a Short Story Series
My goal in this blog series is to walk you through the process of writing a short story from start to finish and then point you in the right direction for getting that story published.
How to Come up With Ideas For Short Stories
Creative writing is like a muscle: use it or lose it. Coming up with ideas is part of the development of that muscle. In this post, I'll go over how to train your mind to put out ideas consistently.
How to Plan a Short Story (Without Really Planning It)
Short stories often don't require extensive planning. They're short, after all. But a little bit of outlining can help. Don't worry, I'm mostly a pantser! I promise this won't be an intense method of planning. It will, however, give you a start with the elements of story structure—and motivation to get you to finish (and publish) your story. Read this article to see how a little planning can go a long way toward writing a successful story.
What You Need in a Short Story/Elements of a Short Story
One of the biggest mistakes I see from new writers is their short stories aren't actually stories. They're often missing a climax, don't have an ending, or just ramble on in a stream-of-consciousness way without any story structure. In this article, I'll show you what you need to make sure your short is a complete story.
Writing Strategies for Short Stories
How to Edit a Short Story
Editing is my least favorite part of writing. It's overwhelming and often tedious. I'll talk about short story editing strategies to take the confusion out of the process, and ensure you can edit with confidence.Learn how to confidently edit your story here.
Writing a Better Short Story
Short stories are their own art form, mainly because of the small word count. In this post, I'll discuss ways to write a better short, including fitting everything you want and need into that tiny word count.
Tightening
Weaving backstory and worldbuilding into your story without overdoing it. Remember, you don't need every detail about the world or a character's life in a short story—but the setting shouldn't be ignored. How your protagonist interacts with it should be significant and interesting.
How to Submit a Short Story to Publications
There are plenty of literary magazines, ezines, anthologies, etc. out there that accept short stories for publication (and you can self-publish your stories, too). In this article, I'll demystify the submission process so you can submit your own stories to publications and start getting your work out there. You'll see your work in a short story anthology soon after using the tips in this article!
Professionalism in the Writing Industry
Emotions can run high when you put your work out there for others to see. In this article, I'll talk about what's expected of you in this profession and how to maintain professionalism so that you don't shoot yourself in the foot when you approach publishers, editors, and agents.
Source:
https://blog.reedsy.com/guide/short-story/how-to-write-a-short-story/
https://www.grammarly.com/blog/how-to-write-a-short-story/
https://thewritepractice.com/how-to-write-a-short-story/